Cessna Flight Training

Welcome to your Cessna Pilot Center. We understand pilots, and what it takes to be a pilot, like no one else. In fact, Cessna Pilot Centers are the largest network of professional flight training organizations in the world. Throughout history, more people have learned to fly in a Cessna than any other aircraft.

Training in dependable Cessna aircraft featuring the latest glass cockpit technology.
* The G1000 flight deck package simplifies all primary flight, engine and sensor data for intuitive, at-a-glance awareness.
* Cessna-exclusive curriculum that makes becoming a pilot easier, faster.
A knowledgeable flight instructor to mentor you, motivate your learning and accommodate your requirements. Think of it as having your own personal cockpit trainer.
* A safe, friendly, comfortable, dynamic atmosphere in which to learn.
* Computer-based instruction (CBI) program works hand in hand with your actual flight experience.
* You must be at least 16 years of age for a student certificate and 17 for a Private Certificate.
Let us show you what you've been missing. With Cessna's comprehensive flight training system, you will quickly become a knowledgeable, competent pilot.
Download the Calhoun Air Center Flight Training Brochure
You must be ready to have the most fun of your life!
We are now offering flight instruction at Victoria Regional Airport. Please call us at 361-575-2359 for more information about what we offer in Victoria!
Our Fleet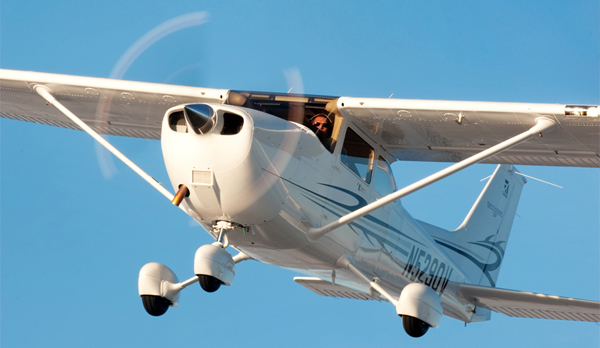 The spirited Skyhawk.
With more than 43,000 delivered, the Cessna Skyhawk is the best-selling, most-flown airplane ever. Maybe that's because of its proven reliability. Or its forgiving flight characteristics. Or its reputation as the safest general aviation aircraft ever built. Because not only is the Skyhawk the most direct route to fulfilling your dreams of flight, it's also an ideal instrument trainer and one of the world's truly great airplanes. And with 180 horsepower attached to a high-performance McCauley propeller with polished chrome spinner, the Skyhawk SP climbs faster and cruises at a greater speed than the original Skyhawk.
Not satisfied to simply outsell the rest.
The Skyhawk continues to build on its legacy as one of the most advanced single-engine aircraft in the sky with features such as the Garmin G1000 glass cockpit. Download the Pilots Owner's Manual, Skyhawk Pilots Information Manual.
Learn from the Best

All schools promise the stars. We deliver.
With Cessna Pilot Center flight instruction programs, you'll quickly become a knowledgeable, competent pilot. The computer-based interactive instruction program works hand in hand with your actual flight experience-allowing you to prepare for your next training flight before you even take off. So you can learn at your own pace.
On your own terms.
Training for the big time doesn't actually have to take a lot of time. CPC students take an average of four months to a year to earn their pilot's certificate, about 30 percent faster than the national average. So you can spend less and earn your wings faster.
Take your first flight, the Discovery Flight, and you are officially begin your journey to pilot hood. Your Discovery Flight takes you and a trained instructor on an approximately 30-minute long flight to familiarize you with the airplane, the airport and the general awe of taking the controls of a safe, reliable Cessna aircraft for the first time, thousands of feet above the earth.